Do you remember your first tweet? A Twitter function allows you to download and save a Twitter archive of your posts, typically delivered by email invitation within minutes of request.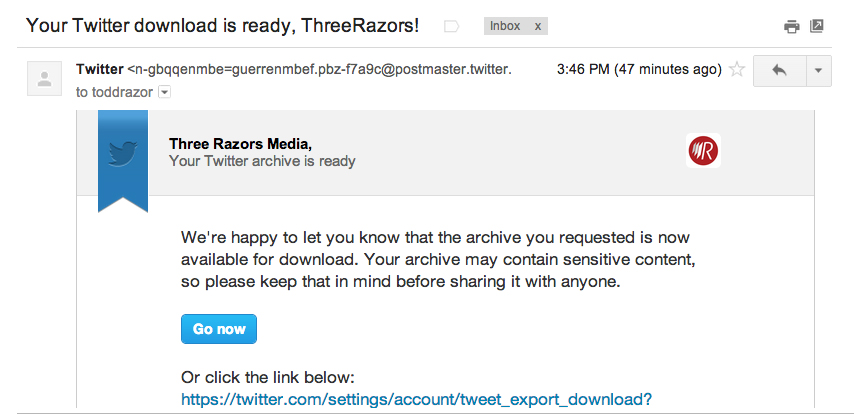 Institutional memory is an important factor for organizations and professionals to consider as they tromp about the digital age, leaving a trail of diverse sound bytes for friends, followers, clients and prospects to pick up along the way.
Twitter is a terrific place to push out news articles, publish brief commentaries and promote blog material, as well as make timely announcements or share thought-provoking original insights – perhaps the most valuable of all.
Savvy researchers and storytellers of all shapes and sizes realize the importance of such value-add practices, which, with the right infrastructure and motivation can go a long way in helping to build brand awareness and recognition by target audiences. Publishers, traditional and otherwise, should also realize the necessity and significance of keeping an ongoing record of what's been shared in public spaces.
Authors, historians and – as mentioned by a social media savvy attorney friend of mine – litigators, too, rely heavily "on the record" and circle back on a regular basis to revisit past posts when moving a project forward.
As digital-age mentalities progress and paper trails dry up in tandem with technological advancements in the custom-publishing space, it is becoming more important for businesses and individuals alike to maintain a decent archive of their posts on sites such as Twitter.
Recently, I learned that Twitter – the 140-character-per-post media outlet now making its mark in the business world and among real estate professionals – has introduced a feature that allows users to download a complete archive of their posts, all the way back to their first tweet.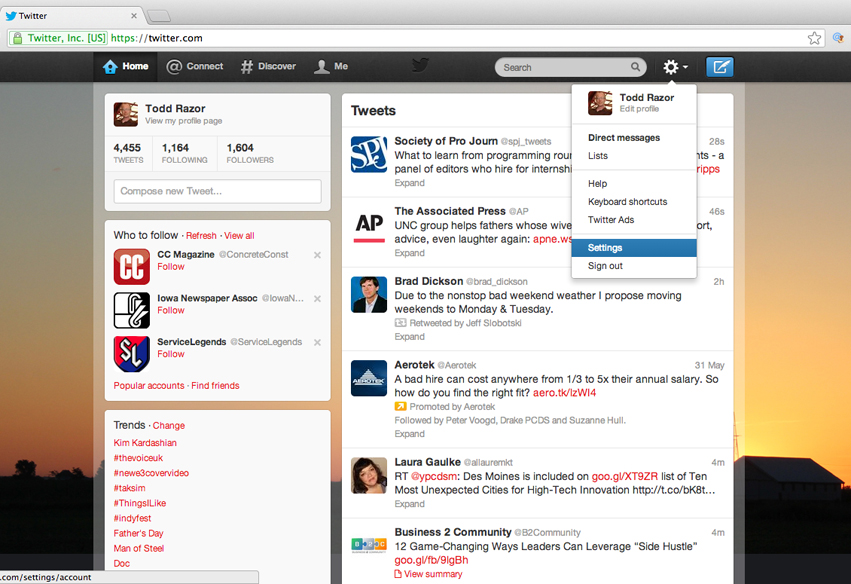 Simply log into Twitter using your username (handle or email address) and password, click on the little wheel in the upper right hand corner of the screen, and select Settings. From there, scroll down until you see the words "Your Twitter archive."
Click "Request your archive" and within a matter of minutes, depending on the user, you should receive a congratulatory email message inviting you to follow a link that will take you back to Twitter. There you will find a download button that will deliver the archive to your desktop as a .zip file.
Open it and presto. Save as a spreadsheet and you're done.
As your brand and industry grows in knowledge of the web-publishing space – perhaps you've even put some thought into professional digital media management or the creation of a social media policy – you will still experience situations resulting from an issue with an employee, job turnover or simple curiosity that leads you to "revisit the record."
Kudos to Twitter for equipping users to forget a once frustrating and dead-end search scenario by presenting a viable solution and positive outcome for those interested in archiving and repurposing their intellectual property.
"Building connections in business."
My first tweet, published in September 2008, holds true today. If you have other questions regarding online publishing in a digital age, please contact Three Razors Media to continue the conversation in print, in person or on the web.