Three Razors Media is taking a little hiatus from the Midwest winter chill this week and bringing our real estate marketing and construction public relations show on the road to World of Concrete in Las Vegas, Nevada.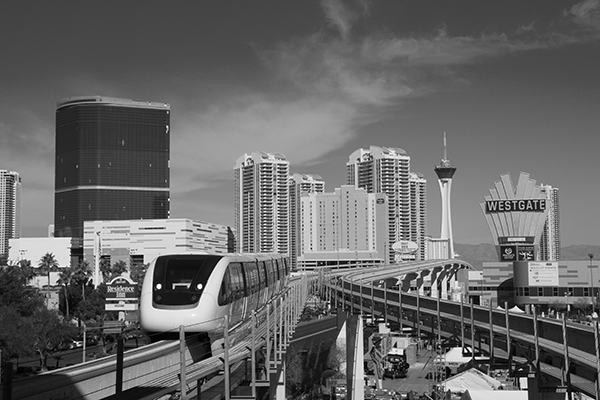 We're fortunate for the opportunity to represent and help tell the stories of two innovative clients at Hanley Wood's World of Concrete 2015, and organizers say the February 3-6 concrete and construction trade show will be the largest of its kind in at least six years.
With 50,000 people expected to attend – and a plethora of exhibitors geared up to receive them both in the Las Vegas Convention Center and two outdoor demonstration lots – World of Concrete presents a multimedia storytelling extravaganza and is a professional construction networker's dream.
Keri Storjohann with MAKO Enterprises in Johnston, Iowa, is unveiling a new generation of the company's concrete elevation control system – on display in Booth C3557 – in the Central Hall. The launch of MAKO's FinStand and Base Plate 4.5, which support a FinCap screed chair to provide adjustable elevation control for concrete slabs and structural members, helps contractors to ensure the finished elevation of their concrete slabs will be maintained, even in environments with extreme sub-grade variance or deck deflections.
Tulsa-based Vacuworx – a leading global provider of heavy duty lifting and material handling equipment for the utility, construction, and oil and pipeline industries – is in Vegas to meet with customers and show off new interactive product displays at Booth C6685 in the Central Hall. The manufacturer has launched an eight-pad vacuum lifting system designed for concrete slab removal during road and bridge construction projects. Vacuworx will also be promoting a new hydraulic lifter engineered specifically to lift and handle concrete road barriers.
Three Razors is appreciative of an opportunity to reach out and connect with trusted editors and our friends in the construction media this week, too, as we strive continually to be a credible resource and source of relevant information for construction-oriented trade publications. On a related note, connect with Three Razors on Twitter and be sure to use World of Concrete's #WOC2015 hashtag when posting in regards to the show.
Three Razors Media is a full-service relations company. That means any place a customer comes in contact with a client's name is where we strive to stand in the gap by ensuring those interactions are beneficial to the customer. Our goal is to always accomplish this while upholding the image and promoting mutual integrity among the brands.
Trade shows are an excellent time to connect with and serve customers, as well as to seek out new business relationships and learn as much as possible about the brands, technologies, processes and applications that will help to drive business forward in 2015. Thankfully, the integrity and reputations of regarded clients such as MAKO and Vacuworx speak for themselves, making our multimedia storytelling efforts and media outreach so very rewarding whether we're at home or working from the road.
At Three Razors, we love the sight and sounds of new construction, well-oiled pieces of machinery, and massive pieces of commercial real estate. And, of course, collecting and carrying as much proverbial trade show bling as we can lug around.
See you in Vegas.
"I live in a concrete jungle." - A Three Razors Media client regarding his focus area and thoughts on preparing for WOC 2015.