I hung out in one of my favorite Des Moines coffeehouses today, getting it done and feeling good about supporting a local business with strong ties to the community.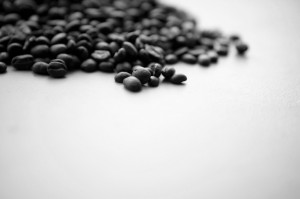 A few months back, I'd made a commitment to the establishment; going as far as to publish via social media that it was my new go-to office when life, business or a need to recharge brought me to the area.
This afternoon, while trying to remain optimistic - overlooking the fact that establishing an Internet connection there with a modern Apple computer is like washing down a tuna fish sandwich with hot cocoa - I even considered putting together a video blog to promote the joint.
Then something spilled.
After paying for my coffee and without being prompted gladly picked up two newspapers I didn't really need - to meet the minimum threshold for a debit card purchase - I went to work dreaming and fulfilling dreams of branding and marketing the clients, small businesses and local merchants I hold dear in a city I love.
Getting thirsty from all the aspiration to lead brands I choose to align my company with further into the digital age, I returned to the counter with no cash in hand, but a lot of love, a little hope and a piece of plastic that couldn't convince a cashier - a cashier who probably knows me by name at this point - that perhaps my loyalty is worth a half-cup refill.
No beans.
Perhaps said merchant hasn't had enough complaints from Macintosh users to warrant addressing its wireless connectivity issue. Maybe the debit card transaction fee on a less-than-$1 refill is so inconceivable that the merchant could afford to turn away with no attempt to keep me in the venue, even after I made it clear I was going to drink coffee in the shop of its closest competitor.
For all I know, business is going so well - though the empirical data I've gathered on any given weekday morning says otherwise - that addressing issues related to unreliable Internet connections, costly credit card transaction fees, or eating what probably amounts to less than 5 cents or 10 cents worth of product to satisfy a repeat customer, is way too hard to swallow.
I'd feel better if it was an isolated incident, especially knowing that alternative payment options are bubbling up in the local scene. And, of course, it's not the coffee proprietor's fault that this was the second such experience I've had this week.  And neither were necessarily customer service issues.
Yesterday, it was merely an outdated system or process involving identification that nearly stopped me short of completing a transaction at a local, yet not locally owned, office supply store in Des Moines.
Now I'm asking myself whether it's worth walking into either retail space, given that a comparable provider may offer a similar or superior customer experience down the road?
What really stands out in the mind, however, is how nearly everyday now I'm realizing new and more obvious examples of how the ability to provide outstanding customer service - service that keeps customers coming back time and time again - correlates directly to digging up or installing digital and mobile infrastructures that heat customer satisfaction to a reasonable temperature.
Are you?