More than 400 professionals and associates of the industry turned out for the 18th annual Iowa Commercial Real Estate Expo with a 2014 lineup that included an inspirational speech by retired NFL great and hard-charging real estate entrepreneur Emmitt Smith. Story and photos by Todd Razor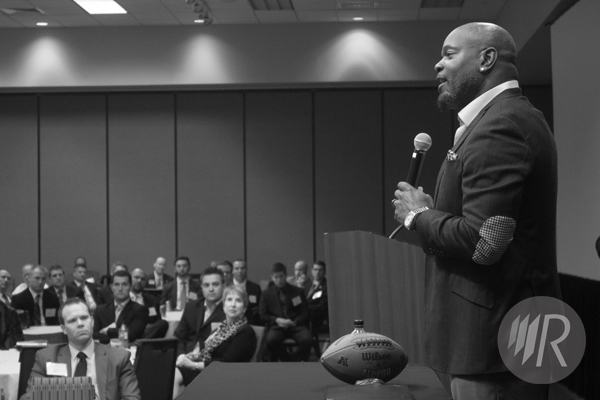 Overtones of customer service rang throughout the meeting rooms and networking areas staged for the Iowa Commercial Real Estate Expo, a gathering that attracted more than 400 professionals to West Des Moines in September 2014.
Veterans of the industry mixed, mingled and talked business with their clients, partners and associates while welcoming newcomers to the field during the daylong event, presented annually by the Iowa Commercial Real Estate Association (ICREA) and Iowa Chapter of the Certified Commercial Investment Member (CCIM) Institute.
Dozens of perspectives on real estate, technology and economic development oriented subject matter – aimed at enlightening brokers, sales associates, lenders, attorneys and other playmakers operating in the state's real estate sector – were shared during breakouts as themes of "service," "teamwork" and "high-touch" rushed from main stage to the sidelines of the Sheraton West Des Moines Hotel.
Multiple opportunities to meet with sponsors, exhibitors and special guests were offered as attendees networked their way through keynote presentations, an industry awards ceremony, luncheon, social hour, VIP event, and targeted educational sessions reflecting expert views on everything from Low Income Housing Tax Credits, property redevelopment opportunities, leasehold valuations, sustainability and investment decisions. The Expo applies each year for six hours of continuing education credits to be approved by the Iowa Real Estate Commission.
Internationally respected real estate trainer and consultant Mike Lipsey of The Lipsey Co. kicked off as the 2014 Expo's morning speaker, and was followed at midgame by popular economist Chris Kuehl of Armada Corporate Intelligence, who returned for a second consecutive year to the deliver the Expo's traditional lunchtime economic update.
The prime-time afternoon keynote speaker was Emmitt Smith, the National Football League's all-time leading rusher who, as a member of the Dallas Cowboys, was the only player to have won a Super Bowl MVP, NFL MVP and NFL Rushing Crown in the same season.
Smith, a commercial builder and developer who today leads Emmitt Smith Enterprises in the Dallas/Fort Worth-area, is the author of "Game On: Find Your Purpose – Pursue Your Dream," chronicling the pro football legend's story from humble beginnings growing up in Pensacola, Fla., to his rise in the business world.
His entrepreneurial journey included an initial look into architecture before eventually being turned on to many facets of the real estate, construction, financing and asset management world. Those exposures, Smith said, opened his "mind to what game of real estate was all about."
He ultimately earned a CCIM designation, joining a select group focused on teaching and applying the best principles of commercial real estate while helping to propel careers and grow businesses opportunities in relation to more than 13,000 members worldwide. "Earning the CCIM designation means a great deal to me," said Smith in a 2012 CCIM Feature story. "It shows that I went through the complete program, did the work, and showed commitment. It lets my peers know that I can do the work."
Smith, who during the Expo shared highlights from a journey that's included three Super Bowl championships and a "Dancing with the Stars" ABC reality show win, said that a childhood mentor had helped to diversify his interests and realize that there are other things in life besides football.
He talked of maximizing moments. He talked of God-given talents. He talked of showing discernment in regards to how we expend our abilities. He talked a lot about reaching our potential in life and business by constructing an attitude of service into the things that we do or achieve.
Smith tied it all, from anecdotes illustrating two squads on opposing sides clawing and digging and scratching for colossal wins – to securing hard-won victories in the business world – together with and back to the raw fundamentals: building relationship, working hard, giving back, operating as a team.
"We are partners," he said. "You have done that by being in business for yourselves, and also by sacrificing for the entire team."
The University of Florida alum's advice for college graduates – and geared toward a group of students visiting along with Dr. Arthur Cox and on behalf of University Northern Iowa's Real Estate Education Program – was this: "Be ready to go to work. Be ready to create your own individual brand. Do what you say you are going to. Be humble and be willing to learn and grow, but mostly willing to work."
The talent, determination and team mindset Smith displayed during a 15-season career with the Cowboys led to a list of professional feats that includes running for 164 touchdowns, amassing 18,355 yards, and a 2010 induction into the NFL Pro Football Hall of Fame. Smith, in that acceptance speech, recalled turning at six years old to his father and – with the Cowboys on television and other relatives in the room – clearly articulating that he would play professional football and that it would be for Dallas.
"At the age of 21, I already knew what I needed to do in order to make my mark," reads a transcription of the talk on ESPN.com. "I wanted to become the all-time leading rusher. I knew Walter Payton was one of the best to have ever played the game, and I wanted to achieve that level of greatness."
Smith and wife have five children and are the founders of Pat and Emmitt Smith Charities, which each year presents awards of college scholarships while providing enrichment opportunities to underserved youth. For Smith, consistently writing down and recommitting to the pursuit of his goals has helped shape proud accomplishments in a life guided by faith, family and a set of principles that places serving others at the top.
ESPN.com: "The hardest service is for everyone," Smith said. "The second principle is we all need a championship strategy to guide us to help make those dreams come true. The third principle is, claim your inner champion. When you claim your inner champion, you will learn to see, hear and feel differently than others. So what I most want to convey here is, never, never let others define you; you define yourself."